As we settle into our new normal lives during the Global Pandemic, we have had to constantly adapt and change our previous ways. Everything went Virtual! That means, all our previous rituals of collaboration moved completely online. Team Meetings, Asakai Sessions, Shimekai events, office celebrations and even our much-anticipated Rakathon (Rakuten India's Hackathon) too went completely virtual.
What is Rakathon?
Take two seemingly unrelated words, "hack" and "marathon," and put them together to describe one of the most popular and powerful problem-solving techniques in the past decade. Hackathons allow for creative work and are free from the typical constraints of developing something new as there is no need to adhere to a specific strategy, you can work with whomever you want – the sky's the limit. As Rakuten's mission is to contribute to society by creating value through innovation and entrepreneurship, we had to host our own Hackathon to embrace new thinking and empower people through innovation! Hence, introducing Rakathon! This our very own 24-hour long coding competition where a host of software professionals, designers, budding engineers and freelancers came together to pitch solutions to solve real-life problems. To stay on-trend, the themes for this year were Mobile, Healthcare, FinTech and Education. Additionally, we also made sure to include the hottest technology tracks such as 5G, Machine Learning, Artificial Intelligence, Data Science, Fraud, Digital Operations and Blockchain.
This year, Rakathon had over 7500+ idea registrations out of which 110 were shortlisted for the Finale. Amongst them were the top 5 winners. The finale took place from April 9th, 1:00 PM to April 10th, 2:00 PM.  Being one of the Core Committee members who organized the Rakathon, here's a summary of this exciting event!
Day 1 – April 9th 2021
On the first day, the top 110 teams joined the official Kick-off of Rakathon, this event featured inspiring speeches by Sunil Gopinath (CEO, Rakuten India), Hirai Yasufumi (CIO & CISO Group Executive Vice President, Technology Division) and Sai Sri Sathya (co-founder and CEO of S20.AI). After the inauguration, our contestants embarked on their 24-hour coding journey! Participants also had the opportunity to attend various virtual booths on Japanese food, Travel and Culture, Rakuten's Products, Processes and much more. It was amazing to see teams work through the night to improve their ideas, take suggestions from Rakuten mentors and function without boundaries to find innovative solutions.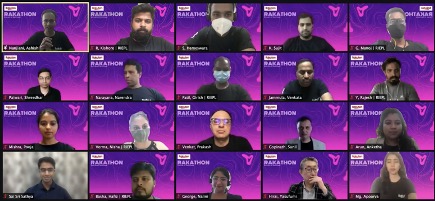 Day 2- April 10th, 2021
'The Finale' rolled around super quick! The second day commenced with our contestants participating in engaging Fireside Chats with Sunil Gopinath (CEO), Naren Narayana (COO) and Nalini George (CPO). We also held Fun Booths such a Yoga and Signature Analysis to ensure the participants stayed motivated!
At noon, when the clock struck 1, our 24 hour coding phase was officially over and it was time for the teams to submit their ideas. Post the idea submission phase, we had a distinguished set of Internal and External judges who helped us identify the top 10 teams.
Finally, it was time for the last leg of Rakathon! The grand conclusion, had everyone logging in to watch the top 10 Teams pitch their ideas to the Jury! The below incredible industry leaders were the final Jury Members: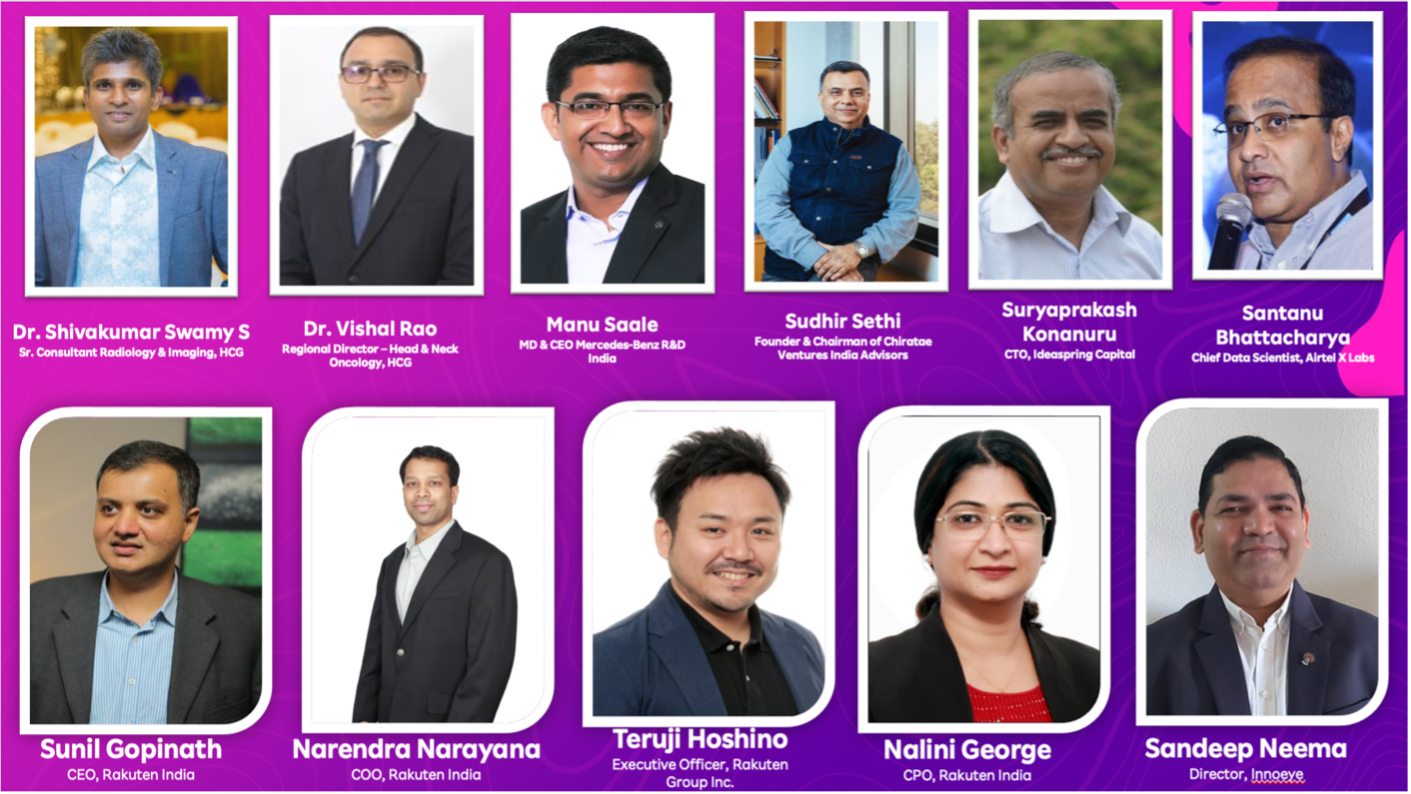 As each of the top 10 teams came into pitch their ideas to our Jury Members, it was interesting to watch the lively and engaging Q&A sessions between the Judges and Participants.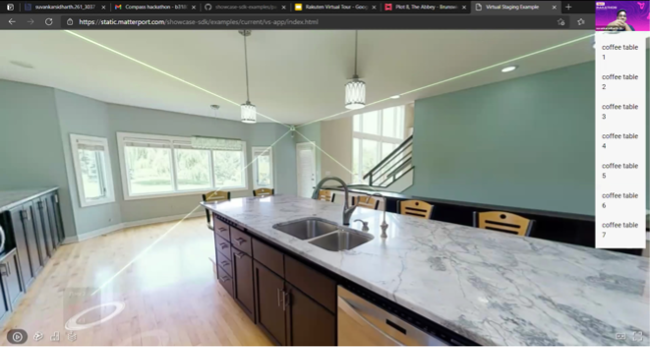 Post the presentations, our Judges finalized the winners! The below are the top 5 teams along with their innovative award-winning solutions!
HeathSense (HealthCare)
Ramesh Rao from Spacenos built a system on mobile phones that could screen and monitor tuberculosis. Through research, he learnt that the cough sound or voice biomarkers vary for TB cough to other pulmonary diseases. To detect the same, he produced a mobile app called "HealthSense".
Visual Studio, AR Furniture App (Mobile)
Sidharth Suvankar and Ananya Aprameya from IIIT Bhubaneswar built an AR Furniture App. The objective of this was to enable a Virtual Showroom experience inside an unfurnished house to view how it would look once furnished.
SEG, GES AI - The Responsible Investors (Fintech)
Abhilash K R from Rakuten India and Manoj Vignesh from Intuit Inc aim to make ESG scoring an automatic, data-driven process. They leveraged the **GDelt**, news source to ingest historical and real-time News articles, Tweets, and other digital publications that classify into the three ESG categories. This then performed scoring based on sentiment, which can be adjusted based on given windows of time.
TEAM VIZHELP, Vision for Blind (Mobile)
Priyansh Sharma, Ishal Garg, Pratham Pahariya and Aditya Kumar Garg from IIT Dhanbad made smart AI-based solutions. With an aim to help visually impaired people lead normal lives, they came up with the idea of Visual Support Glasses. They focused the glasses on two core areas which are reading and navigation. These glasses will give an audio description of the things around them, assist them in reading, and also help in their other daily life work.
HEXAGON, AI monitored, enhanced online classroom and examination portal (Education)
Tankal Yuvraj and Joseph K. Paul from IIT Dhanbad created a multipurpose artificial intelligence model-based attentiveness monitoring system. It continuously monitors the attentiveness of the candidates who are involved in the assessment by considering various parameters.
With all the above cutting-edge solutions mentioned, it's safe to say, the future of technology is in good hands! Along with bragging rights, the top 5 teams also won cash prizes worth INR 15 Lakhs as well as trophies. But that's not all, even the Runner Up teams walked away with cash prizes of INR 25,000 per team. Looks like everyone was a winner that day! With that, the two Day Rakathon came to a conclusion. All of this would not have been possible without the mammoth efforts put in by the Organizing Committee who did a commendable job in making the event a huge success.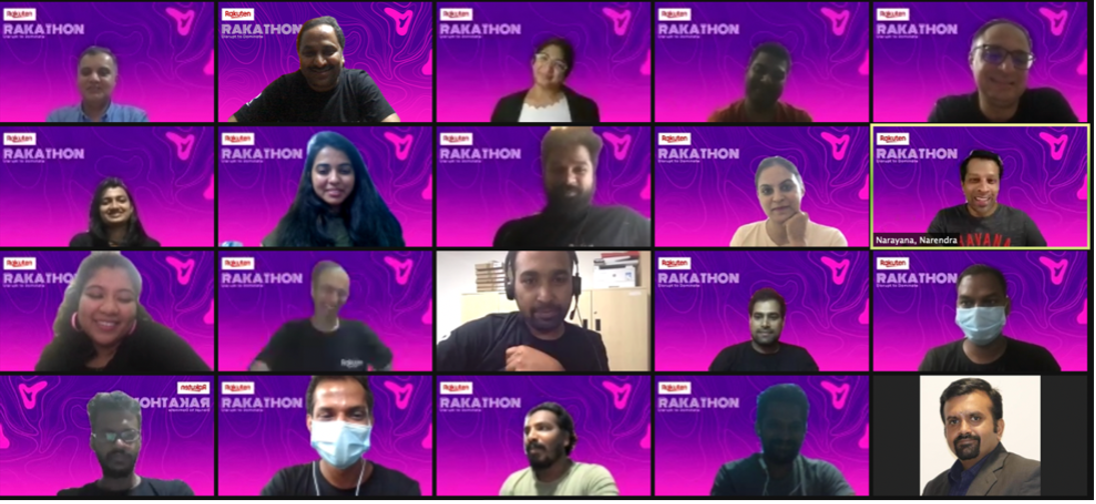 My Learnings – What to keep in mind when organizing a Virtual Hackathon
To me, the event was a blank canvas where I could play with colours and paint my own masterpiece. The whole event was a brand-new experience for me. I learnt that important aspects such as Leadership, Teamwork, Spontaneous Solutions and Effective Communications go a long way in making any event a success!  Below are few of my key takeaways from Rakathon.
One Task at a Time
Many things will come your way at once, from emails to participants queries to logistic problems. Don't let it overwhelm you, take one task at a time and everything will fall into place.
Be in Touch
Stay connected with your participants and committee members at all times! It is essential to be precise but simple about what you communicate. My coordination skills played a major role while communicating with various team members, reaching out to teams for participation and collaborating with the judging panel.
Make it fun 
The real enjoyment is when you make organising fun. Create a carefree environment for your participants and committee members to work within. Keep the atmosphere light by appreciating small achievements, clicking pictures, holding fun activities and keeping team members engaged with a clear objective in mind! All of this will help you see amazing results.
This was my journey with Rakathon! Where else can you feel excited, nervous, rushed, motivated, tired, passionate, enlightened and accomplished, all within 24 hours? Well, you have got to be a part of a hackathon to experience that.
Kishore Rajah
Project Manager